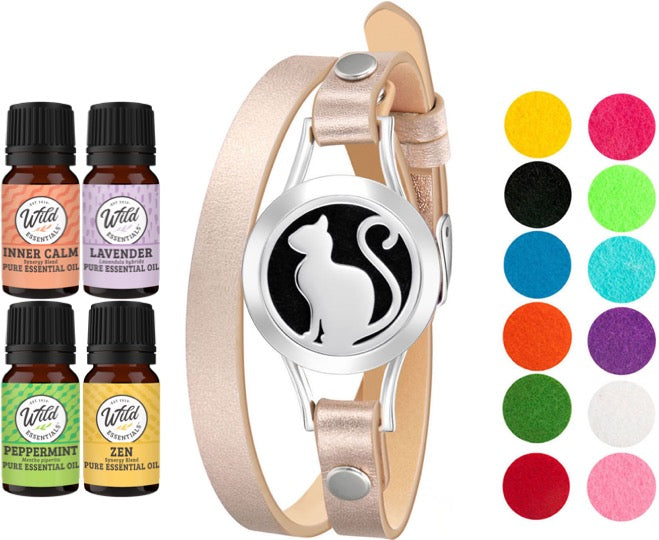 Leather Wrap Bracelet Diffusers With Oils
Wild Essentials leather wrap aromatherapy bracelet diffuser gift sets are m

ade with a hypoallergenic, surgical grade 316L stainless steel pendant, an adjustable 14.5" leather band and include 4 bottles of assorted essential oils and 12 vibrantly colored, premium refill pads.
Aromatherapy On the Go: Great for school, work or anywhere in between, our essential oil bracelet allows you diffuse your favorite scents! With your personal diffuser jewelry you'll relax, de-stress and find inner peace, no matter what comes your way.

Premium Essential Oils: While other brands opt for synthetic scents or "aroma oils", our oils are 100% pure and therapeutic grade! Every order includes Lavender, Lemongrass, Peppermint and Sweet Orange
Fashion-Forward and Functional: Stylish and versatile, we pair our bracelet diffuser lockets with a 14.5" gorgeous real leather, wrap bracelet! Complete with a solid back and two magnets for a secure close, you'll never have to worry about getting oil on your skin or clothing.
World-Class Craftsmanship: Made from hypoallergenic, surgical grade 316L stainless steel and a real leather band, our diffuser jewelry is as sleek as it is durable! Packaged in a finely crafted gift box, it makes a thoughtful gift that friends and family are sure to cherish!
Buy more and save. Buy any combination of 2 bracelet with oil sets and save $5 each - buy 3 or more and save $10 each!