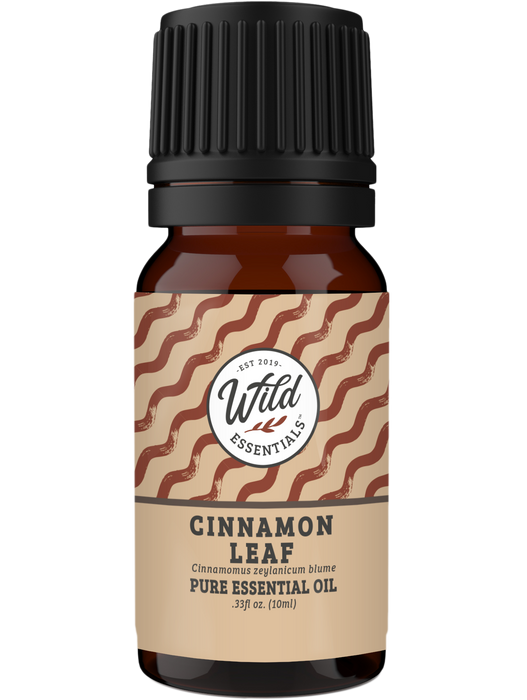 Essential Oils (Single Note) CINNAMON LEAF
Save

0

%
Save %
Original price
$7.99
-
Original price
$7.99
100% Pure Cinnamon Leaf Essential Oil 10ml Bottle. Botanical Name: Cinnamomus zeylancium blume

Warm comforting scent

When diffused can help with depression, fatigue, libido, and immunity defense

When dilluted in a carrier oil or lotion and massaged, can help with dry skin, aches, pains, muscle and joint stiffness, acne, rashes, enhance circulation and healthy glowing skin

When diffused the scent freshens and cleans the air with an uplifting and relaxing fragrance which also has a therapeutic grounding and soothing effect
Cinnamon Leaf essential oil has a distinct sweet, warm-spicy, dry, tenacious odor and is extracted in Sri Lanka through the process of steam distillation from the leaves of Cinnamomum zeylanicum.
Cinnamon oil can be helpful relieving symptoms associated with the flu, coughs, colds and aid with circulatory, digestive and immune-deficiency issues. When diluted with a carrier oil or lotion, Cinnamon Leaf can ease stress on the body by increasing circulation and be helpful for rheumatism, arthritis and aches and pains. Also can reduce the appearance of cellulite, stress, tiredness, and tight muscles. 
When diffused It can help with depression, hopelessness, mental exhaustion, improves the spirit, motivation, and creativity. The warm familiar scent freshens and clears the air while uplifting, and relaxing and has a therapeutic grounding and soothing effect. Cinnamon Leaf is known to have calming effects on the mind that result in an improved cognitive function. Its ability to reduce nervous tension helps with retention, attention span, memory enhancement and can reduce memory loss. 
Cinnamon Leaf oil is also a great air freshener and as a cleanser additive.