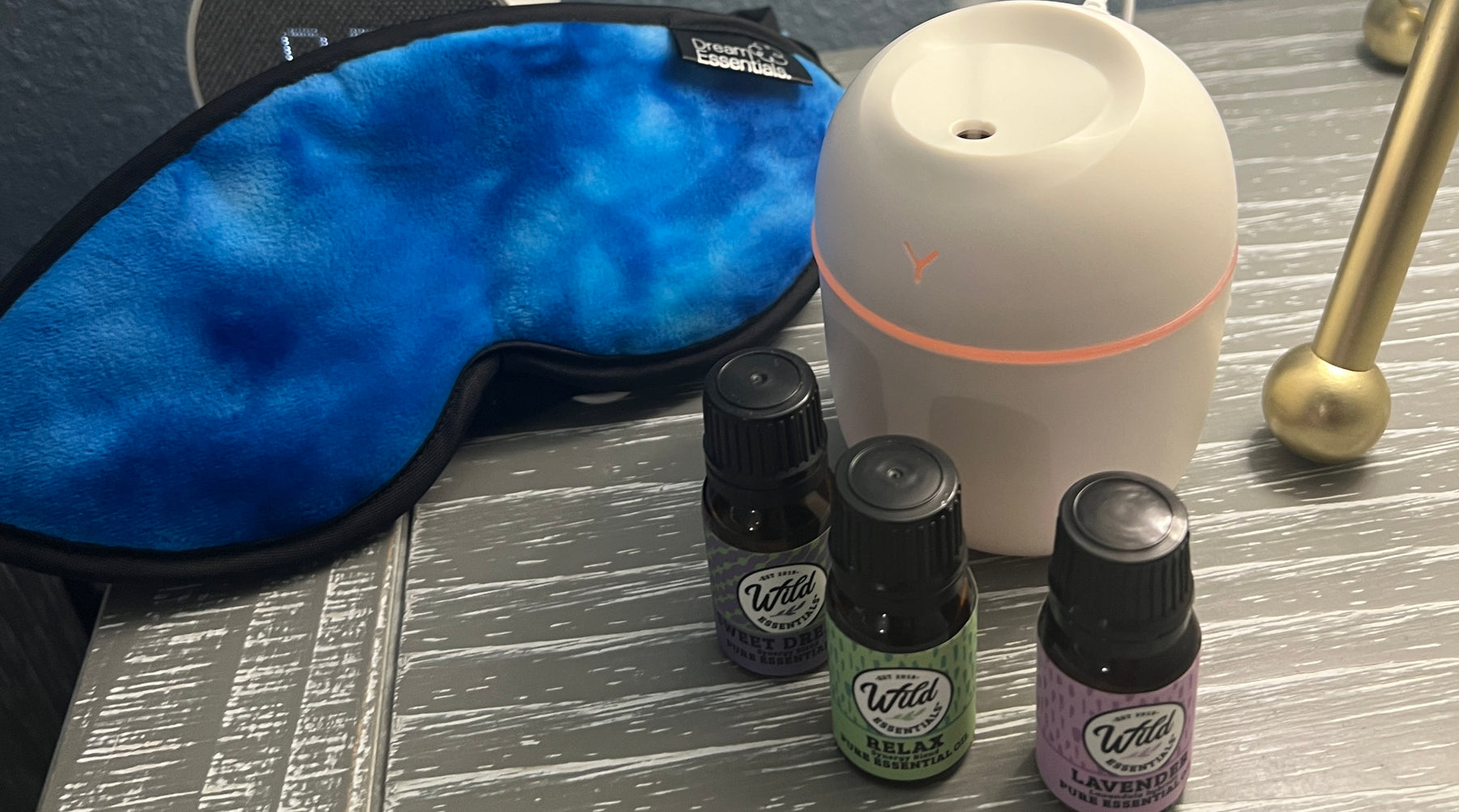 How Sleep Masks and Essential Oils Work Together to Help You Relax, Get Better Sleep and Become a Better Version of You!
Everyone wants to get better sleep and wake up feeling completely refreshed, yet it's been reported that nearly 40% of adults are not getting the sleep that their body requires. That can affect your mood, appetite, productivity, motivation, etc. Our mission is to make products that can help you with that with Wild Essentials branded aromatherapy items and Dream Essentials branded sleep masks.
Our sleep masks and essential oils can work together to stimulate the senses, promote relaxation, meditation, and sleep through a combination of sensory and olfactory effects. These are not just for sleep either, we recommend the combination of sleep masks and aromatherapy for meditation, yoga or even just a daydream break to recharge in the middle of the day. Here are just a few of the benefits of our products:
Sensory deprivation: Sleep masks help create a dark and visually isolated environment, blocking out external light and distractions. This sensory deprivation can enhance relaxation by reducing visual stimuli that may keep you awake or disturb your sleep.
Aromatherapy: Essential oils, when used properly, can have calming and soothing effects on the mind and body. By inhaling the aroma of certain oils, you can stimulate your olfactory system, which is closely linked to the brain's limbic system responsible for emotions and memory.
Relaxation and stress reduction: Many essential oils, such as lavender, chamomile, and bergamot, have properties known to promote relaxation and reduce stress. When inhaled, the scent of these oils can trigger a relaxation response in the body, helping to calm the nervous system and ease tension.
Meditation support: The combined use of sleep masks and essential oils can enhance meditation practice. The darkness provided by the sleep mask helps to minimize visual distractions, allowing you to focus inward and deepen your meditation experience. Meanwhile, the aroma of certain essential oils can help create a conducive atmosphere for relaxation and concentration.
Sleep promotion: Both sleep masks and essential oils can contribute to better sleep quality. The darkness provided by the sleep mask helps signal to your brain that it's time to sleep, supporting the natural production of melatonin, the hormone responsible for regulating sleep-wake cycles. Additionally, inhaling sleep-promoting essential oils, such as our sweet dreams blend, lavender or cedarwood, can help calm the mind and promote a sense of relaxation, making it easier to fall asleep and achieve restful sleep.
When choosing from our sleep masks and essential oils, it's important to find out what is right for you.
Choose a comfortable sleep mask that effectively blocks out light without causing discomfort or pressure on the eyes. We have flat masks for side and stomach sleepers (Ultra Silk Masks), deep eye masks to prevent pressure on the eyelids (Escape or Infinity or Contoured) and many more to choose from.
Personal preferences for scents can vary, so experiment with different essential oils to find the ones that promote relaxation and sleep for you. Our Sweet Dreams blend or Lavender are great for sleep (Sweet Dreams is also amazing for restless legs!) while our Inner Calm or Zen blends are great for Meditation. We have many oils that can help!
Practice good sleep hygiene by creating a calming bedtime routine that incorporates sleep masks, essential oils, and other relaxing activities.
Remember, while sleep masks and essential oils can be helpful sleep aids, it's important to address any underlying sleep issues or concerns with a healthcare professional if they persist or worsen.