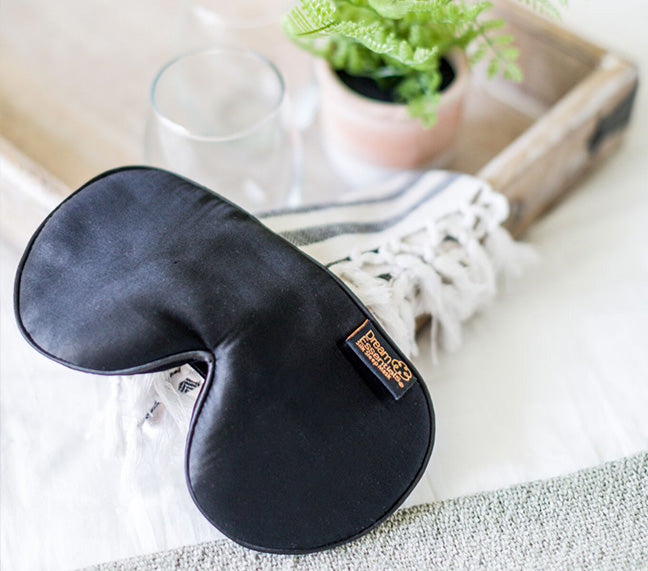 Introducing the 'New' Patriot USA Sleep Mask
Fall Asleep Naturally
with this Lightweight, Breathable Patriotic Sleep Mask
Be ultra cool and sleep in style with this 'Stars and Stripes' designed sleep mask.  This sleeping mask features large eye cavity area, so the sleep mask fabric does not touch the eyes and lashes. The mask is hi-tech molded design that is excellent for blocking unwanted light and creating darkness.

The sleeping blindfold is a must have for people who want to fall asleep easier, who want extra darkness in their bedroom, shift workers who need to sleep in the day, useful for those who meditate, for travelling and when you need to get sleep on a boat, in a car, hotel room or on a plane and for young mother's (and father's) who need a daytime nap when baby is sleeping.

The fabric on these sleep goggles is lightweight,  the fabric breathes leaving and with the eye cavity space, the sleep mask runs cooler than most  on your face. 

The fully adjustable slide stretch elastic band of the sleeping mask allows for perfect size variability and durability throughout the years.  This sleep mask will fit head sizes ranging from small to extra large.
Dream Mask Benefits
Fall asleep naturally by blocking unwanted light
The Patriot Sleep Mask has a large eye cavity area (space in from of your eyes)  - Your lashes don't touch the fabric (some people like the mask to press against their eyes, other prefer nothing touching their eyes while 
Fully Adjustable Strap - Fits Small to Extra Large Heads
Lightweight  - cool temperature on the face
Excellent Light Blocking - the darkness helps you sleep more naturally
Washable
The Dream Essentials Dreamlite Sleeping Mask comes in many different designs it can also be customized to have your own design if required.   

Checkout other Dreamlite Sleep Mask Designs click here
Looking for Custom Design click here 

As with all Dream Essentials Sleep Masks, the Dreamlite Patriot can be returned within 45 days if it does not work for you.