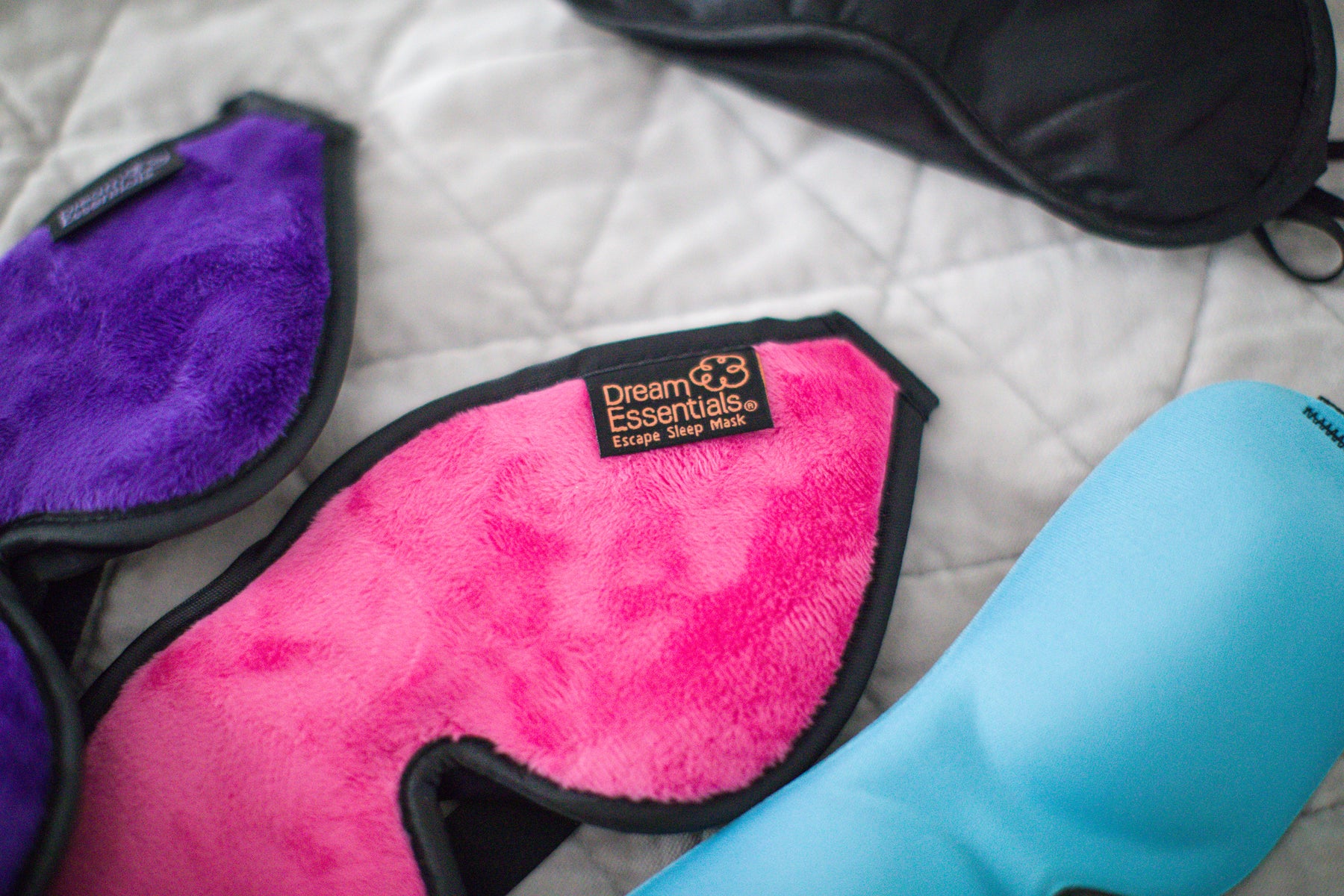 Introducing the 'New' Escape Luxury Travel Sleep Mask
Contoured Sleek Soft
The Escape Travel Sleep Mask features an internal eye chamber (eye cavity) to ensure absolutely no pressure on the eyes while maintaining high quality light blockage.
The strap is all new, and now consists of high grade elastic, that is softer and smoother to the touch. The hook and fuzzy, velcro-like fastener of its predecessor has been removed, so your hair doesn't get caught or tangled in it. The new strap is fully adjustable, it's easy to secure comfortably, and can be adjusted to fit any adult head size.  Angle the strap above the ear, to apply the right amount of pressure to the cheeks, an area notorious for light leakage.  This ultimately provides you with more comfort as you sleep. 
The sleep mask comes with free earplugs, earplug case and a neat drawstring pouch for you to store it all in.
This Version has the NEW Fully Adjustable Stap
Free Carry Pouch, Earplugs and Earplug Case with each Mask
100% light blocking for effective sleep and relaxation
Ultra comfortable using natural cotton for sensitive facial skin
Eye cavity - your eyes don't touch the inside of the mask
Ships with a free pair of earplugs and earplug case
Product Details
Inside of Mask
The fabric that rests over the eye area and on the face is fully breathable, 100% cotton. This black eye mask is constructed from open-cell, fully breathable, foam padding with cut-outs for the eyes. Plush satin Comfort Bridge™ rests gently across the bridge of the nose to block light.
Outside of Mask
The exterior fabric of the mask is a soft, yet durable micro-plush mink. The outside fabric does not make contact with the face; it simply defines the look and feel of the mask and has been selected specifically to withstand the rigors of travel. 

Mask Fastener
Mask secures around the head with fully adjustable high grade elastic and adjustable low profile slider.  The elastic is slim-line and extremely soft elastic band for superior comfort.
Care
Hand wash in cool water.
Lay flat to dry.
Carry Pouch
Silky taffeta pouch with closeable drawstring.

Specifications
Mask Size 4" x 10"
Weight 1.2 oz
Carry Pouch Size 4.5" x 5.75"