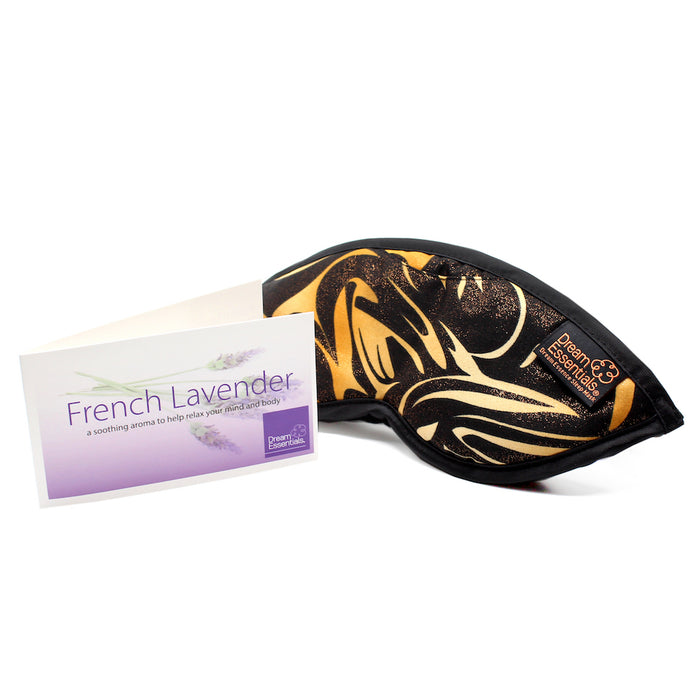 Dream Essence Lavender Aromatherapy Sleep Mask - Made in the USA (12 Styles)
Save up to

0

%
Save %
Original price
$0.00
-
Original price
$24.99
All New, Limited Edition Designs
The classic Dream Essence Sleep Mask is hand crafted in the USA and is now available in several vibrant, limited edition patterns. This cute eye mask for sleeping is designed with a pocket on the front, used for inserting a natural herb, French lavender sachet. Each mask comes with a free, organic French Lavender herb sachet, so when you put on this herbal eye mask, you can breathe in the calming effects of these natural herbs and fall into a beautiful deep sleep. The combination of the relaxing French Lavender scent and the inky black darkness created by this light-blocking sleep mask, will help you to fall into a deep, restful sleep.
Lavender Sleep Mask Main Features and Benefits
100% light blocking gets you to sleep fast
Has a small pocket for optional French lavender Herb Sachet to help you get a deeper more refreshing sleep
Very comfortable head-strap mask secures around head with silky sheer Comfort Snug
Fall asleep faster and more naturally
Wake refreshed and ready to take on the challenges of the new day
Made in the USA
Inside of the Sleep Mask
The interior fabric of this cute eye mask for sleeping is 100% cotton. This creates a soft, fully breathable cushion that rests gently against the eyes. The Dream Essence also has a padded ridge along the bottom of the mask that helps to block light from leaking in around the nose.
Outside of the Herbal Eye Mask
The fabric on the outside of this lavender sleep mask does not make contact with the face, it simply defines the look and feel of the mask. The Dream Essence Prints line of masks features colorful, limited edition designs.
BONUS "FREE" 

French Lavender Herb Sachet with each Dream Essence Sleep Mask

With each Dream Essence Sleep Mask comes a FREE white breathable sachet,  filled with Natural Organic French Lavender Flower Buds.

 


Additional French Lavender Herb Sachets are available for purchase CLICK HERE.
Sleep Mask Strap Details
The Dream Essence mask utilizes the revolutionary Comfort Snug band. This is an ultra-thin strap that keeps the mask secure, without any unnecessary bulk.
Sleep Mask Care
Always remove French Lavender sachet prior to washing
Hand wash in cool water with mild detergent
Lay flat to dry
Dimensions
Size: 3.5" x 10"
Weight: 1.2 oz
I love the Sleep Mask but what if I don't want the Lavender?
No problem - the use of the French Lavender herb sachet is totally optional, and if you want to use the mask to help block light and get you to sleep you can do just that, simply do not place the herb sachet in the pocket.  This way you can still get this amazing sleep mask and use it as a standard one.
Additional French Lavender Herb Sachets are available for purchase
CLICK HERE