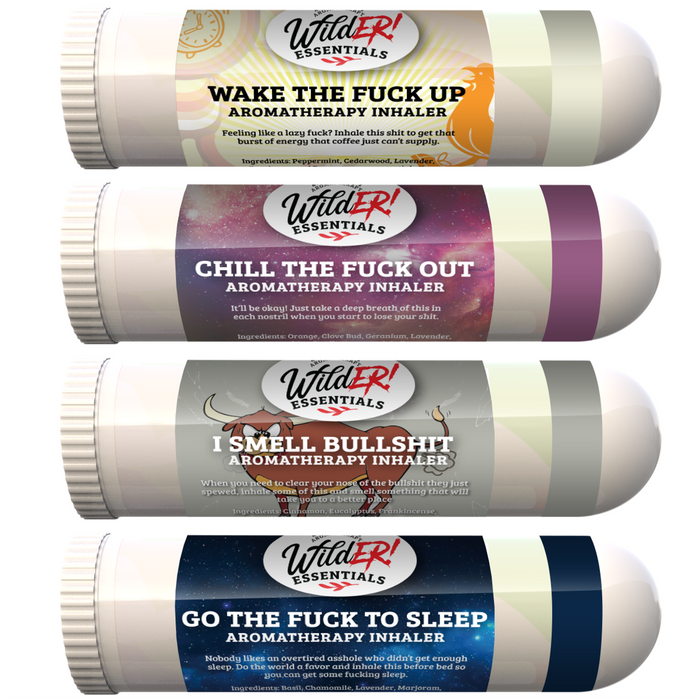 WildER Aromatherapy Inhalers 4 Pack Assortment
Save

0

%
Save

0

%
Original price
$16.99
-
Original price
$16.99
Wild-ER Essentials inhalers are not your Mama's aromatherapy! A funny and effective way to use your aromatherapy throughout your entire day. We include 4 different inhalers for each part of your day - Wake The Fuck Up (for those rough mornings when coffee doesn't quite do it), I Smell Bullshit (for those meetings where you just need to clear the air you breathe), Chill The Fuck Out (for when the stress is getting unbearable or you just want to calm down) and Go The Fuck To Sleep (for bedtime when you are ready to re-charge and do it all again tomorrow!

Pure and Natural: Our premium aromatherapy inhalers are made using only 100% pure therapeutic grade essential oils and contain no artificial or mystery ingredients.
Our inhalers are made in the USA with high density medical grade plastic to keep the oils from evaporating or oxidizing
Proven Method: The most effective method for deriving the benefits of essential oils has been proven to be inhalation. The inhalation of essential oils supports both physical and emotional well-being.
Aromatherapy On the Go: Great for school, work or anywhere in between, our inhalers can help you achieve your personal best no matter the circumstances. Very light and non invasive, they fit in your pocket like chap stick or a Vicks inhaler.
Our premium inhalers will last at least 30 days if properly stored when not in use. Order multiples and keep them handy wherever you go
Directions for use: Uncap and insert the inhaler into your nostril and inhale deeply. Repeat as many times as you like and be sure to recap when finished.