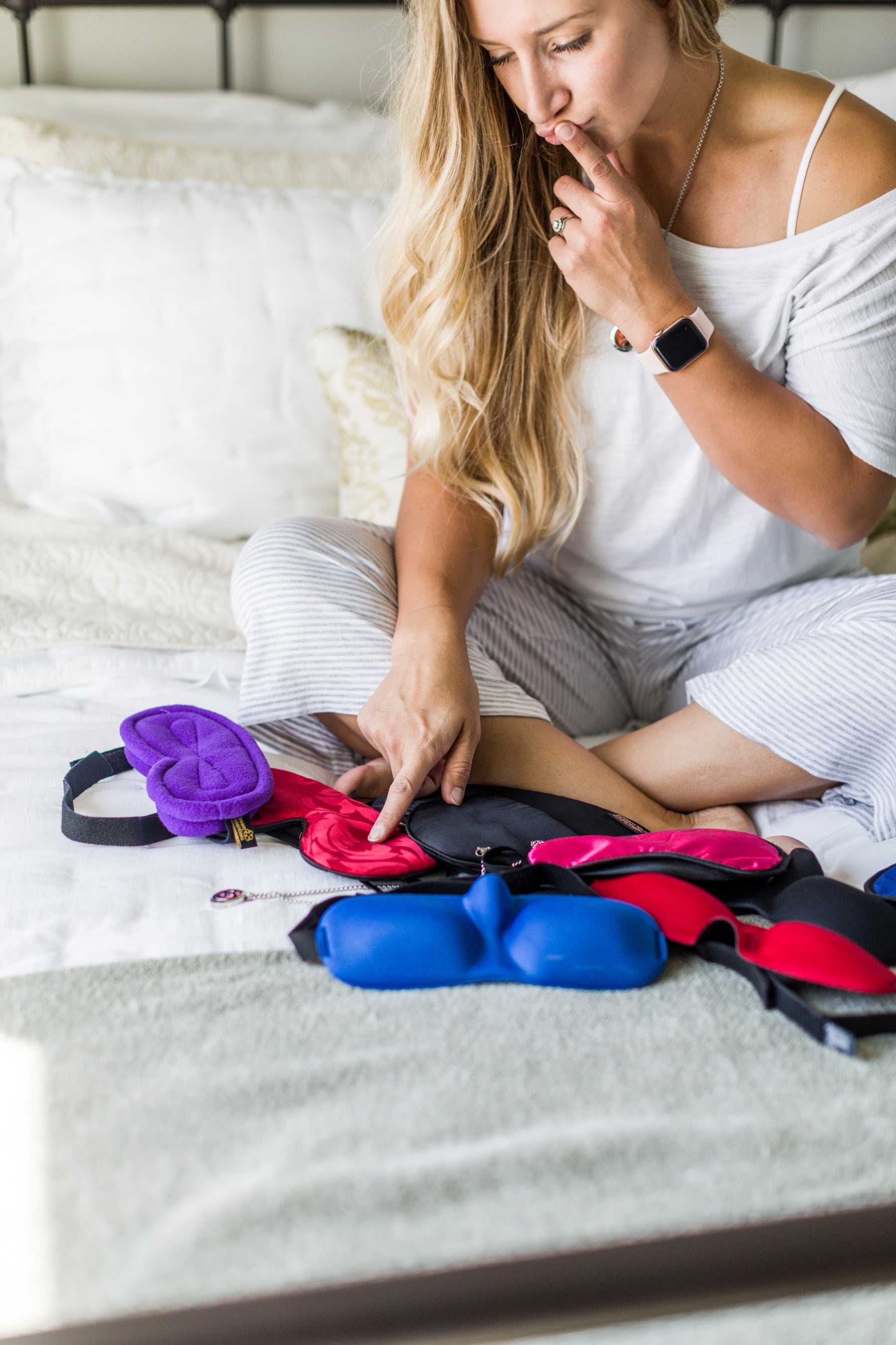 How to choose a Sleep Mask?
How to Choose the Best Sleep Mask
More than half of American adults do not get the recommended 7 to 9 hours of sleep a night. In a recent Time Magazine article, experts are warning us about how a lack of sleep not only is effecting our bodies, but our brains. The Centers for Disease Control and Prevention consider our lack of sleep a health epidemic and that getting more sleep should be a nonnegotiable priority.
Sleeping pills are a cheap solution for some, but they do not allow our brain to move in and out of the various stages of the sleeping cycle. Sleeping masks are a simple and effective solution. Whether you are sleeping at home or on the road, a sleeping mask will block unwanted light and help your body produce melatonin, a hormone produced to help your body fall asleep naturally.
The big question is, which sleep mask is best for you? A lot of factors come into play when trying to decide (budget, sleep position, facial features, etc).
Can't decide on the best sleeping masks? You are not alone
Deciding which sleep mask is right for you can be a little overwhelming at first and it is a common problem shared by many people. A sleep mask can be used at home or while traveling as a passenger in an airplane car or train. People like using them when in a hotel, in hospital, or when they are sleeping in a place other than their home. Night shifters use them during the day, other people during the night. Some use a mask when in the office for power napping, and others like their benefits for relaxation and meditation.
Your first task is to think about what your prime use is for your sleep mask, as this will help to narrow down your choices. We at Dream Essentials have taken a look at the various scenarios and produced a list of our best recommendations.
Comfortable sleep masks for blocking out light
Trying to use a sleep mask to block 100% of light is not easily achieved. Since everyone's face is different shape, a mask that blocks 100% of light for one person may not do so for another. If you are in a situation where you are trying to sleep in a fairly dark room, but some level of unwanted light creeps in through the curtains or outside street lighting - then a mask with 98% light blocking will do the trick for you.
If you are trying to sleep in a very bright location such as a hospital room during the day or a long flight in a brightly lit cabin then you will look for a mask with very strong 99% to 100% light blocking capability. Those people who are night shift workers, a sleep mask that blocks 100% of the light is extremely important.
Some sleep masks can block 99% and even 100% of unwanted light when correctly fitted to the face. A great solution for those that want comfort while blocking 99%+ of light is the Opulence or silk eye mask. This plush sleep mask provides supreme comfort by using natural cotton. Opulence comes in a variety of colors and is very affordable.
The Infinity Sleep Mask offers excellent comfort with an ergonomic design and snug fit. The mask is made with a soft, double-velour fleece that offers 100% light blocking. There mask is surrounded by a soft roll that allows the mask to breath while providing superior light blocking. Read the reviews and you will see just how much our customers are loving this mask!
The perfect sleep mask for travel
One of our customers most favorite mask for travel is the Escape Luxury Sleep Mask. Everything you could ever want in a travel sleep mask is provided right here. It is made with natural cotton to ensure extreme comfort. The mask also offers an interior eye 
chamber so that your eyes never feel any pressure. This chamber also helps with maximum light blocking, great when trying to sleep during the day. You'll also get a convenient carry pouch, ear plugs and ear plug case. This is a great sleep mask for men and women who fly or travel often.
The Sweet Dreams sleep mask is made for those looking for something lightweight and easy to travel with. It comes with its own carrying pouch; perfect to quickly grab and throw in your luggage, briefcase, purse or beach bag! It comes in three colors, and all come with their own ear plugs. 
Are you a side sleeper? Try one of these masks
If you sleep on your side, you will want a mask that is flexible and doesn't dig into your face. People that sleep primarily on their sides may prefer a more streamlined mask profile so that the mask is not so easily dislodged with varying sleep positions.
Our Twilight Side Sleeper is a one size fits all mask, with a comfortable cotton liner. It is slim-line but made of multiple layers for great light blocking. Each mask comes with a carry pouch, ear plugs and an ear plug case.
Our Dream Essentials Contoured Sleep Mask also is lightweight enough for those who sleep on their side. It is soft, flexible and breathable so you stay cool while sleeping. The Contoured Sleep Mask comes in two colors; black and aqua, plus comes with a easily adjustable velcro strap.
Lastly, if you want a sleep mask that is flexible and extremely affordable, the Snooz can't be beat! Lightweight and made with soft satin, this mask will help you fall asleep quickly. The Snooz comes in 4 different colors and offers a dual elastic band.
Masks to help with puffy eyes
There are many things that can cause you puffy eyes. Staring at a computer monitor all day, crying, allergies and lack of sleep can all cause puffy and tired eyes. Our line of gel masks will give your eyes a spa-like experience. Feel complete relaxation as our gel eye masks for puffy eyes sooth your peepers. Placing the mask in the fridge for 45 minutes to an hour will provide cold therapy to ease migraines and headaches. For warm therapy, place a gel mask in warm water and indulge.
If you suffer from dry eyes, we offer a full collection of dry eye therapy. Dry eyes cause itching, scratching, or burning sensations that ultimately can effect your vision. Our Tranquileyes with Thermo Eyes or Tranquileyes with beads both can be used as sleep masks to help hydrate your eyes.
Do I choose a sleep mask with cavities or not?
Before you can answer that you need to know what eye cavities are in regards to a sleep mask. Some masks are shaped and designed in such a way that there are recesses (cavities) where your eyes are.
These cavities mean that your eyes do not touch the fabric of the mask. You can open your eyes with the mask on and your eye lashes are away from the fabric and you stare into darkness.
Some people are actually soothed by gentle pressure to the eyelids, whilst for others, this is an irritation. At Dream Essentials, we offer a 45-Day No Hassle Money Back Guarantee so feel safe knowing you will find the perfect mask for you.
Escape, Infinity, Sweet Dreams, Total Eclipse Sleeping Mask and Mindfold are some of the most popular brands that don't touch your eyes.
What fabric choice is best?
Materials used in the mask construction are important, particularly for people irritated by, or even allergic, to certain materials and fabrics. From silk eye masks to cotton eye masks for sleep, we carry a wide variety of fabrics to choose from. There is a great option for a silk sleep mask, plus our Opulence sleep masks come in beautiful cotton patterns.
We also carry a line of CopperSkin Nightwear Sleep Masks; perfect for those looking to reduce the appearance of wrinkles and fine lines. Copper has long been a used for health and wellness. It has natural healing properties and is an essential nutrient in the human body.
Our CopperSkin Nightwear masks come in two styles; snake and coppertine.
Another great choice when it comes to fabric, is bamboo. If you are looking for a sleep mask that is lightweight and keeps a cool temperature all night long, the Dream Essentials Bamboo Mask is for you. It is made of natural bamboo, perfect for those with sensitive skin.  
Affordable yet effective sleeping masks
If price is a factor for you, we have some great choices that don't skimp on quality. Our Snooz collection is very popular. It is made from with silky, soft satin and comes in 4 color choices. This mask features a Comfort Bridge so that unwanted light doesn't reach your eyes from the nose area. Being lightweight, it will rest lightly on your face, with no pressure on your eyes.
If you are looking for an affordable, yet stylish sleep mask, look no further than the Dreamlite Sleep Mask. This mask is made of lightweight, breathable material - perfect for sleeping anywhere. You'll also enjoy the quirky designs that come on the face of the mask. If you'd like to customize the sleep mask and put your own design on it, we can do that too!
Aromatherpy Sleep Masks
Herbs have been used through the ages to treat various conditions due to their medicinal and calming qualities. If you are not prone to allergies or are looking to promote a deep, peaceful or comforting sleep, we have a few choices for you.

Our Dream Essence mask, has a pocket in the front to insert a herb sachet called a Sleep Booster. This Sleep Booster will help you get a deeper more sound sleep. Each of our aromatherapy masks come with a free lavender and chamomile herb sachet to help you naturally fall into a beautiful deep sleep. The Dream Essence mask uses a Comfort Snug strap to ensure perfect light blocking
Our Solitude sleep mask is filled with lavender flowers, to help calm you and achieve a deeper night's sleep. This mask comes with an adjustable velcro strap to help with the perfect fit
How to get started
Now you have read about the many options we have at Dream Essentials. I hope we have helped anwer any questions you may have when considering all the factors in buying a sleep mask. Feel free to also take a look at all the available sleep masks we have. Our choices and options are always being updated.