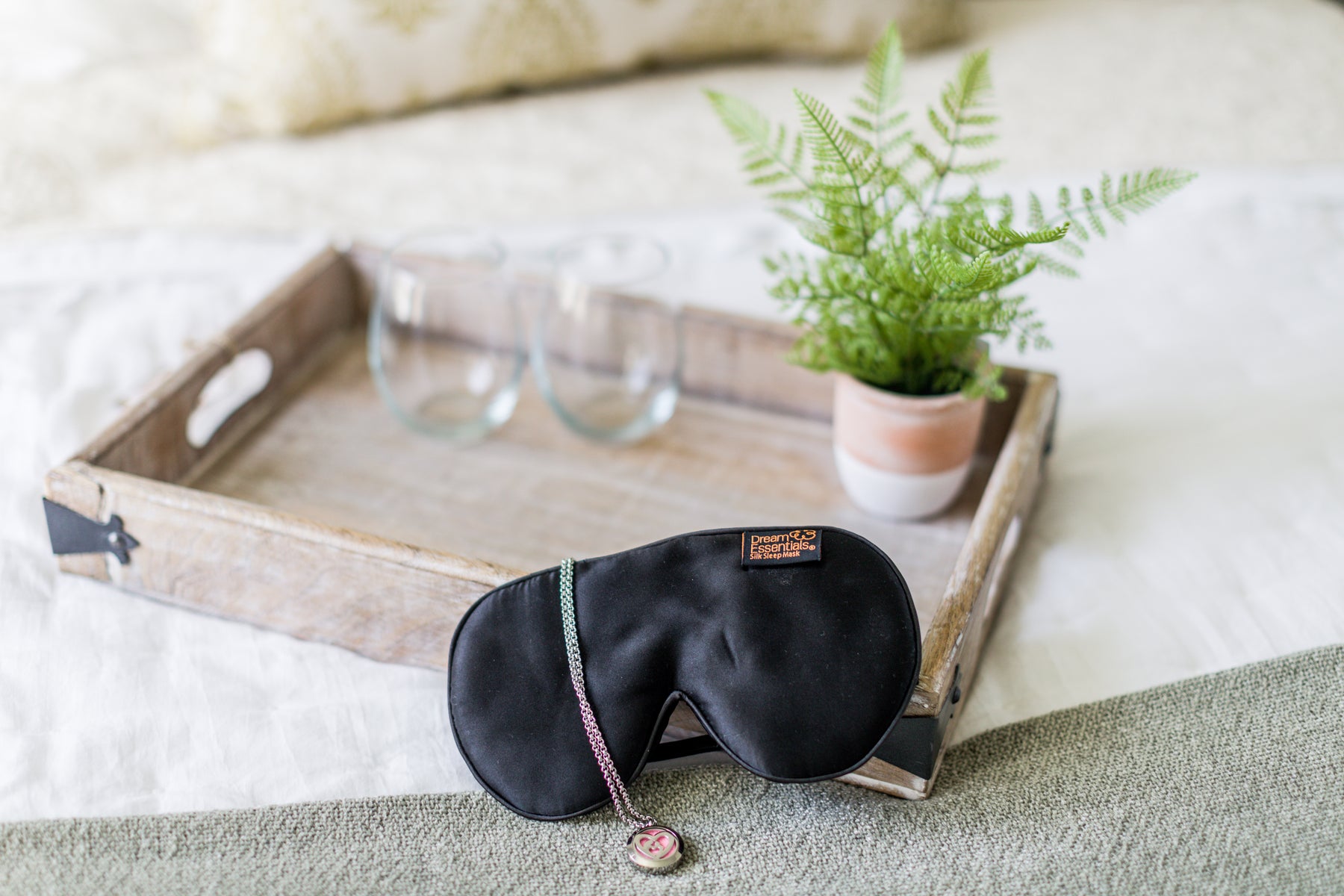 Sleep Masks for MIRA Dinner Guests
MIRA Foundation uses Sweet Dreams Sleep Masks
 

to help provide Guide Dogs for blind children.
Whoever thought of wearing sleep masks while dining?
MIRA is only organization in the United States dedicated to providing guide dogs to blind children and youth between the ages of 11-17. Thankfully, Dream Essentials was gracious enough to provide their luxurious sleeping masks as blindfolds for this event.
Beth Daniels, MIRA's Executive Director, explains," Dining in the Dark dinners first took place in Europe, came to San Francisco, and can now be found in a number of regions throughout the US. Guests don the Dream Essentials Sweet Dreams Sleep Mask starting with the first course, and wear them until dessert is served.   We use this dinner as a unique way to give guests a sense of the challenges our blind students face every single day when they sit down to eat."
What is the MIRA Foundation?
MIRA USA was founded in 2008 by Bob and Elaine Baillie after Bob became totally blind due to complications from coronary bypass surgery. When Bob traveled to MIRA Canada to be paired with his guide dog, Devon, he learned that none of the agencies in the US provided guide dogs to anyone under the age of 18 except in very rare instances. 
MIRA Canada, however, has been training guide dogs for children and youth since 1991, and maintains a world renowned breeding and training program for guide and service dogs for both children and adults. Bob and Elaine decided to bring MIRA's expertise to the US, and in Feb. of 2009, MIRA USA received its 501c3 non-profit status. Today, MIRA USA is a separate, legal entity from MIRA CA while maintaining very close ties, since our dogs and students are trained on the MIRA CA campus. MIRA USA provides guide dogs to students in the 11-17 age group free of charge. In 2009 MIRA paired two guide dogs with students, six in 2010, and four in July of 2011.  For more information, visit the MIRA website at www.mirausa.org.
What do the kids say about life with a Guide Dog?
"You know how you're supposed to learn something new every day? I used not to believe that gibberish, that is until "Navy" came into my life. "Navy" is a part of me now, my dog, my friend, my eyes, he's everything I've ever dreamed of. I used to be scared of crowds, large clusters of kids, but not anymore. I can finally walk down the halls of my school with my chin held high, and a smile that isn't faked. Getting lost used to be my greatest fear, but now, whenever "Navy" and I get turned around, I can actually laugh at the situation. I trust my dog, I love my dog, and I can proudly say without doubt, he loves me too."  Darcie
"Having a guide dog gives me more independence than using a cane. At first I wasn't sure how different things were going to be, but now I can say that they are very different . . .  but in the best possible ways. Having the dog has made me a more confident traveler and greatly enriched my quality of life. I'm so grateful to the folks at MIRA USA and MIRA Canada for making all this possible, as well as Dream Essentials and their sleep masks in order to raise awareness for my condition."    Meredith
A Truly Wonderful Use for a Blindfold
Guests are almost always surprised at how much laughter there is during the evening. One guest at a recent dinner in Aiken, SC said, "I thought it was going to be the quietest meal I had ever experienced, and it has been just the opposite. Lots of laughter, comments about the challenges of eating when you can't see the food due to the sleep masks, and a great sense of camaraderie as everyone gave each other tips on how to get food to their mouths. Something we usually take for granted!"  On a more serious note, a guest from an earlier dinner wrote, "In the bigger picture, Dining in the Dark changed how I think of the sightless. Or, to be blunt, it made me think of the sightless at all. I never had before."
Now, that's a truly unique and beneficial use for the Sweet Dreams Sleep Mask!
Thank you, Dream Essentials.
What uses do you have for a Dream Essentials Sleep Mask?
Please tell us your own story. Maybe you have used sleep masks for Dine in the Dark Events, Blind Charity Walks or other great causes. If you do have a story, then do contact us and let us know we would love to tell others about it.
Blindfolds Used by MIRA
MIRA chose Sweet Dreams as the product for their blindfold. The mask makes for a great blindfold, blocks light extremely well, is light weight and breathable, flexible and robust.
Click this link to see this blindfold
Sweet Dreams Contoured Sleep Mask (Click here)
There are lots of smiles during a Dining in the
Dark event with the Sweet Dreams Sleep Masks.